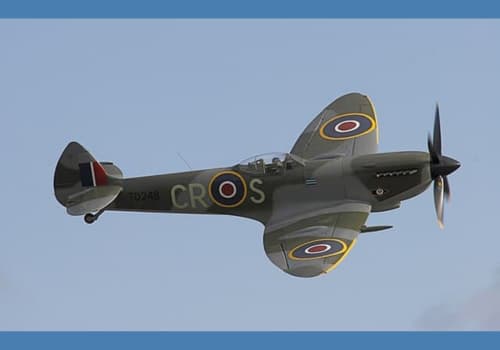 ATA – Anything To Anywhere
•
(Caution: Contains spoilers for Episode: 16×04: The Flying Club. With a bit of 13×01: The Sword of Guillaume, and a little bit of 10×01: Dancing with the Dead)
•
A murder has occurred at Finchmere airfield. John Barnaby interrogates the Darnley family who own the airfield and looks at old photographs in the family's home. The Darnley family home was filmed at Penn House, Amersham, Buckinghamshire, which has been in the family since 1222. However, the photos John Barnaby is looking at are from the annual festival held at White Waltham.
John Barnaby notices a photo of a Spitfire among the many photos and asks Molly Darnley, with a certain recognition in his voice, whether she used to fly one of these famous planes. The elderly lady launches straight into the story: She didn't fly in the war as a soldier, but was part of the ATA that transported the planes between the factories and the airfields. Without radios and guns.
She also flew a Lancaster back then. One of them flew it here to Finchmere and caused admiration and love with one of the soldiers, Henry Darnley, who later became her husband but has since died.
The ATA was founded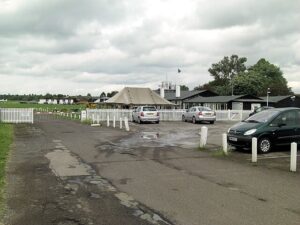 "Anything to anywhere" was the unofficial motto of the ATA, a British civilian organisation founded in February 1940. Its mission was to fly aircrafts from one place to another – be it factories, airfields, transatlantic delivery points, or anything else. (Well, "anyway" is not completely right because they did not deliver to naval aircraft carriers.)
The idea of using civilian pilots as support was much older to the RAF than the founding of the ATA. For the civilians needed no combat training, no combat equipment. They only needed the knowledge to fly different aircrafts. This could also be done by older, or physically disabled men – and of course also women, who were not drafted as soldiers either. In total, 10 % of the ATA pilots were female and they even received the same pay as their male colleagues.
Commander Pauline Gower was ordered to form a female group for the ATA on 14 November 1939. The first eight were accepted into service at the beginning of 1940. Originally their task was only to transport personnel, mail, and medical supplies, but as the war progressed the RAF now needed more personnel to transport aircraft.
The ferrying of aircraft started from No. 1 Ferry Pool at White Waltham on 15 February 1940, the ATA's Command HQ during World War 2. Within a few weeks, the ATA took over transporting all military aircraft from factories to maintenance units to have guns and accessories installed and a year later, in the summer of 1941, took over all ferrying jobs.
The ATA was an important cornerstone throughout the war and was only disbanded at the end of November 1945.
White Waltham Airfield, Midsomer
It is one of the few times when the history of the film location and the history of the Midsomer village meet and intertwine. The episode was filmed for Finchmere Airfield just inside the ATA No. 1 Ferry Pool at White Waltham, in Berkshire.
There was also an airfield here before the war, set up in 1928. The de Havilland family bought it for their de Havilland School of Flying to teach students for the RAF Reserve from 1935. In 1938 it was taken over by the British government for the same purpose and became RAF's Central Flying School. This remained on site for a year after the formation of the ATA, but then it became so cramped and busy that EFTS 13 was given a new site.
After World War 2 White Waltham Airfield remained under RAF ownership and control until 1982. Since then it has been a private airport.
So it would be all too plausible that Molly Darnley would have worked here as a pilot and found the love of her life.
The tragedy around Ellie Wingate
Another woman at the ATA was Ellie Wingate, with whom Molly was probably close friends. She was also there when Molly flew the Lancaster to Finchmere Airfield and Henry Darnley saw her for the first time.
But not only Molly, Ellie also fell in love with the soldier, who ultimately decided in favour of Molly and proposed to her.
The day after the engagement, all ATA flights were cancelled due to a storm, including Ellie's flight. Despite everything, she flew into the storm – and never returned. She presumably took her own life out of lovesickness, but for decades Molly didn't dare tell this truth to her grieving little brother Duggie. She preferred to live with his contempt, because he believes she deliberately sent Ellie into the storm to have Henry for herself.
With Spitfires from Midsomer County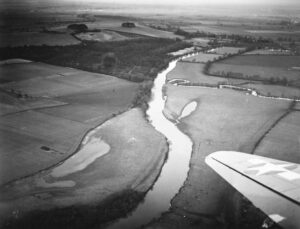 Away from the tragedy of Ellie Wingate's decision and Molly Darnley's reluctance to tell Dougie the truth, we learn that Ellie could also fly a Spitfire.
I had already written that from August 1941 the ATA pilots flew all types of aircraft. Also the women and also big machines like Spitfires – like Molly Darnley and Ellie Wingate in Finchmere.
The Spitfires were a fighter aircraft used as interceptors due to their good manoeuvrability. Between 1938 and 1948 a total of around 20,000 were tried out in three factories in England. These were: Westland Aircraft in Yeovil, Somerset, Supermarine Aviation Works Limited, Hampshire, and Castle Bromwich Assembly in the West Midlands. The factory Ellie Wingate was supposed to fly to before her mission was cancelled – and she flew anyway.
However, Supermarine Aviation Works Limited in Hampshire could also have links to Midsomer County. About three years earlier, it was still Tom Barnaby's term in Causton CID, Mayor David Hicks reported to the Town Council about the reunion between Causton and Brighton that Spitfires were built on the doorstep of Midsomer County.
How the reunion between Causton and Brighton went… well, that was another idyllic murderous episode:
And… in Morton Fendle, Rosemary Wood probably still puts food and fresh clothes on the edge of the airfield every night. It could be that Ralph will return after all, after 80 years.
Read more about Midsomer Murders & History
The Chronology of Midsomer County by Year or by Epsiodes • Deep Dives into Midsomer & History.
If you would like to honour my effort and passion, I am happy and thankful for every donation.

Literature
Header: Supermarine Spitfire XVI at Duxford, September 2006. By Chowells. CC-BY SA 2.5.
Recommend my website or give some feedback