What if Midsomer exists? If Midsomer exists through the locations where the show is filmed? If the story in the episodes is interwoven with the story of the location? Are there perhaps connections to the historical topic of the episode through the filming location? Or do new connections to English history in other Midsomer Murders episodes arise through the history of the filming location?
These were the questions that drove me to create this Passion Project and in particular to create this network graph. (More Midsomer History here)
I had already thought that there would be a lot of cross-connections. But so many?! Phew…
But see for yourself how so much is interwoven regarding Midsomer & History.
Advice 1: In order not to be hit by the confusion like by a wheel of cheese: Use your mouse to click on the connection dots for eras (light green) and topics (pink) and see where Midsomer connections lead. 
Advice 2: Some points are connected to so many others that you cannot read the label because it overlaps. In this case it helps to simply click on the dot. Then you can move the mouse over the individual connected dots. The word or words you hover over will then come to the foreground and you can read them.
Have fun and enjoy!
For somewhat uncluttered Midsomer Connections, here are two additional ones that show parts of the large visualisation.
It is interesting if you confine it to episode, topic and places in Midsomer County: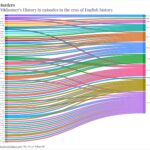 This, on the other hand, is very manageable, containing only the links to episodes to epochs. A certain accumulation is recognisable. There are so many that not all episodes will be visible. But they will appear if you move your mouse over the left-hand start of the link. (Or take a look at the photo on the left side.)
Do you like this or would you like to have more episodes from the underrepresented epochs?